Pensions have been set up but they are not appearing on the P35LF.
If an employee is set up as paying a pension, but the amount is not appearing on the P35LF, please make sure you have the correct pension type mapped to the deduction (RAC, RBS, or PRSA)
The good news is that Payback has a utility to map pension deductions to the correct Pension type.
Follow the instructions below to map pensions.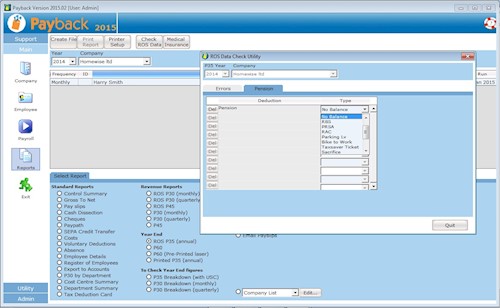 Select 'ROS P35 (Annual)' in the reports screen.
A button with 'Check ROS P35' will appear at the top of the screen.
Click 'Check ROS P35', the P35 fixer tool will appear
Select the Pension tab.
Here you can map the deductions you've set up to pension types. Please make sure that all the pensions are mapped.
When you have done this, try producing the P35 again.
Choosing what to map your pension deductions to
The listed types refer to the following:
RBS - Retirement Benefit Scheme
PRSA - Personal Retirement Savings Account
RAC - Retirement Annuity Contract
If you do not know which one to select, ask the pension provider.